In World of Heroes we have such professions as a cleric, warrior, archer …. etc. so usually they start descriptions of similar games. Already at the stage of planning and designing the game we wanted to break with the convention and give you maximum freedom in the decisions taken the development of your characters.
Therefore, in the World of Heroes you will not be forced to make a decision about the direction of your character on the stage of its creation.
In addition to selecting gender, character names and visual effects you will not have to choose the class that really at the stage of creation would have no way of knowing, and a brief description of how it usually takes place in many other productions, not much talking about the game play would rather this did not help.
In the World of Heroes simply start your adventure and, as far as developing your character learn the skills, the use of which is restricted to the type of weapon that you speak, eg. If you have a sword you will not be able to use the skills reserved for the arc. Also in the reverse situation, it's hard to imagine the performance of cutting or piercing thrust plate armour with a bow.
It all allowing you at each stage of the game to change the mode of managing your hero and and his game-play, eg. change the mode of contact combat fighting using sword to distance combat using arc or even change combat mode to support mode using magic healing weapons, so you can support friends and other players.
But this is not the end of the unconventional elements that have prepared for you. Well, it will be possible to build our hero not only focused on the fight using one type of weapons, but it will be possible to combine the skills of both the weapons and the armour for example. Instead of battle witch, who fights using powerful spells at a distance, wearing both armour cloth, which does not have excessive resistance to physical attack, it is possible to replace eg. armour linen in its entirety or only a few of its elements, the armour plate counterparts. The result will be significantly raised the parameters of such a defensive character while reducing the amount of mana possessed the power of magical attacks, but in turn allow for the adoption of more attacks.
We will encourage you to build such unusual combinations and to check which model will be most suitable for you.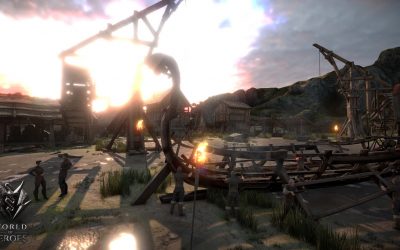 Key new features Added the option to invite other players to join your private instance, and show them what you have built. Added dynamic pathfinding for mobs, which means that it will take buildings built by players into account. Added tax system for buildings. Now...
read more